Have you ever shouted this at one of your kids as they lay injured on an athletic field? No? Obviously you people are way too nice and are on the wrong blog. Go see my wife's blog or Danielle Bean's or Elizabeth Foss' – they are nice people. So are the other parents at the games I go to, at least judging by the looks of horror they give me when I shout out things like that at my kids. Kids today are such
Drama Queens
and softies. I blame it on watching too much European Soccer, those French and Italians
flop
way too much. The Irish do too but they are falling down for a different reason.
Now of course I'm not going to yell that if there is a bone sticking out of the skin or blood gushing out like the Black Knight in the Holy Grail ("It's just a flesh wound").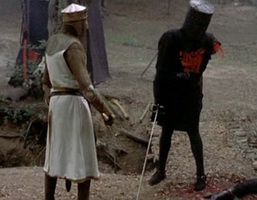 But these minor injuries; where the kid lays down on the ground and rolls around banging the turf like he's having some kind of seizure, puhleeze. Man Up Dude! And what's with everyone else on the field taking a knee while the player is down (it's not like they are praying for her) or then the parents on both sides clapping when the 'injured' kid hobbles of the field? What the heck is that about? If I was the kid I'd be awfully tempted to give them all half a peace-sign. If they are truly hurt they do not want all that attention – at least boys don't.
And don't give me the 'a fake injury is good strategy' garbage either. I don't care. It's unseemly and unmanly.
And what's with all the snacks and drinks at each game. It's like a buffet at the
Golden Corral.
Some of the teams my kids play on assign 3 parents per game to bring food items. One to bring oranges for halftime (already sliced of course), one to bring drinks for after the game and one to bring a snack for after the game. I'm surprised someone isn't assigned to bring Kleenex in case one of the little darlings needs to blow his nose. It has gotten ridiculous. Kids even bring snacks and Gatorade to practices now. A few years ago one of the boys joined a new soccer team and at the first practice the coach announced "…and we won't be doing any of this snack nonsense for the games…" My kind of guy.
When I was a kid you might have brought an old milk or soda bottle with you that had some water in it or the coach might have had a water jug for the game. But that was it. No fruit roll-ups or grapes or Power Bars. (Now it's one thing if it's really hot out there and/or a long game/pratice. I do realize the importance of proper hydration.)
When I was a kid here is how the conversation went on Saturday morning before my games:
Me: 'dad my game is this morning can you drop me off'? (note that I didn't assume he would be at the game)
Dad: 'Ride your stinking bike. What did I buy it for you for anyway?'
Me: 'but it's 2 miles!'
Dad: 'it's good for you, builds character'
Me: 'but what about
bullies
?'
Dad: 'ride faster'
The things that go through ones mind during their lunch time run.